25 March 2019: In a relief to banks like State Bank of India (SBI), debt-ridden glass packaging major, Hindustan National Glass and Industries Ltd (HNGI), promised its bankers repayment of the complete outstanding amount of Rs 2,500 crore by April 2019.
A large part of the fund would be coming from nearly Rs 1,200 crore that is being pumped into the company by a group of Singapore-based investors in the Indian arm of global liquor major Carlsberg.
The country's largest glass bottle maker has given its assurance in a statement filed with the Calcutta High Court to liquidate its dues by next month.
This would mean asking the SBI to extend its deadline which ends on March 31 by another month.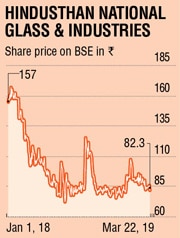 As per a memorandum of understanding (MoU) signed by HNGI in August last year with its secured lenders, it would be paying off Rs 2,007 crore to all its lenders in the form of cash and equity within 90 days from the date of approval of the compromise settlement by SBI on behalf of the consortium lenders.
Following this, HNGI has paid about Rs 500 crore to its bankers.
"Time to make repayment of the loans have been extended. In so far as State Bank is concerned, the time for repayment stands extended till March 31. It is submitted that the petitioner has been able to arrange a foreign investor who has agreed to invest a sum of approximately Rs.1400 crores," the court has said.
There is a dispute over how much HNGI actually owes its bankers currently.
While the bankers argue that the total dues add up to Rs 2,800, HNGI says it is much lower.
As per the latest disclosures, the total indebtedness of the company controlled by the Somany family is Rs 2,524 crores.
Following the assurance, the court has asked the bankers to go soft on the promoters and allow them time to repay.
In January, investors Yeo Soon Keong, Pawan KumarJagetia, Nirmal Madan Singh and Kanuriya Parliwal through their Singapore-based special purpose vehicle (SPV) Lotus One decided to pick up a 34.41% stake in HNGI. Additionally, Lotus One might extend loans of up to Rs 800 crore into HNGI, in tranches either directly or through associates to help HNGI repay most of the debt.
SETTLING DUES
Rs 2,800 cr

– Total dues of the company according to bankers
Rs 2,524 cr

– Total dues according to the latest disclosures by the company
Rs 500 cr

– HNGI has already paid its bankers
---
---
Categories: General News, India Bankruptcy