25 March 2019: Lenders are laying the ground for a new owner in Jet Airways as they insist on an undertaking from the shareholders that will trim founder-chairman Naresh Goyal's stake to below 10% while Abu Dhabi-based Etihad will have to agree to exit from the ailing airline.
Led by State Bank of India (SBI), lenders are planning to call for open bids to sell Jet Airways after obtaining written agreements from Goyal and Etihad. Goyal, who currently owns 51% of Jet Airways, will have to bring down his stake to 9% and have no voting rights. Etihad, whose holding is at 24%, will have to agree to sell its entire stake if it does not bring in new capital.
The Tata Group may be back in the fray for acquiring Jet Airways after such conditions are met. Preliminary talks for a deal were held late last year but the Group had subsequently withdrawn as there was no firm indication that Goyal would step down.
"We have a two-stage plan and are insisting on an agreement from both the shareholders. Goyal has to cut his stake to 9% while Etihad, which has declined from making additional investments, will have to agree to exit. This will ease the path for us to rope in a new investor," a senior bank official said.
Lenders will be subscribing to a 15-year-old zero coupon non-convertible debenture (NCD), issued by Jet Airways, to provide funding of Rs 800-1,000 crore in the interim period to keep the floundering airline afloat. Banks expect to rope in a new investor within four weeks, the source added.
The participation in the NCD will be subject to Goyal agreeing to sell 16% stake to a new investor so that his holding further falls to 9%. Etihad will also have to give an undertaking that it will exit Jet Airways by selling its remaining 12% stake.
"This will give us an option to explore more investors. Some may want Goyal out. Others may want Etihad out," said another banking official.
In the first stage, Goyal will own 25.5% of Jet Airways, down from 51%, after conversion of debt into equity at Rs 1 a unit. Etihad's stake will fall from 24% to 12% while banks will hold 50% of Jet Airways. Banks have kept a deadline of June 30 to offload the lenders' stake.
SBI's earlier resolution plan of coming out with a rights issue in the second stage to bring down the stake ownership has been shelved as neither Goyal nor Etihad is bringing in new capital. "Since fresh capital is not going to come in from the shareholders, we have proposed the NCD route," the source said.
Until the new investor comes in, the lenders have suggested appointing Alvarez & Marsal, a global professional services firm, as a consultant for restructuring the airline and also 'managing' it along with the Jet Airways's management.
McKinsey, a global management consulting firm, has already been roped in to chalk out a turnaround plan for Jet Airways.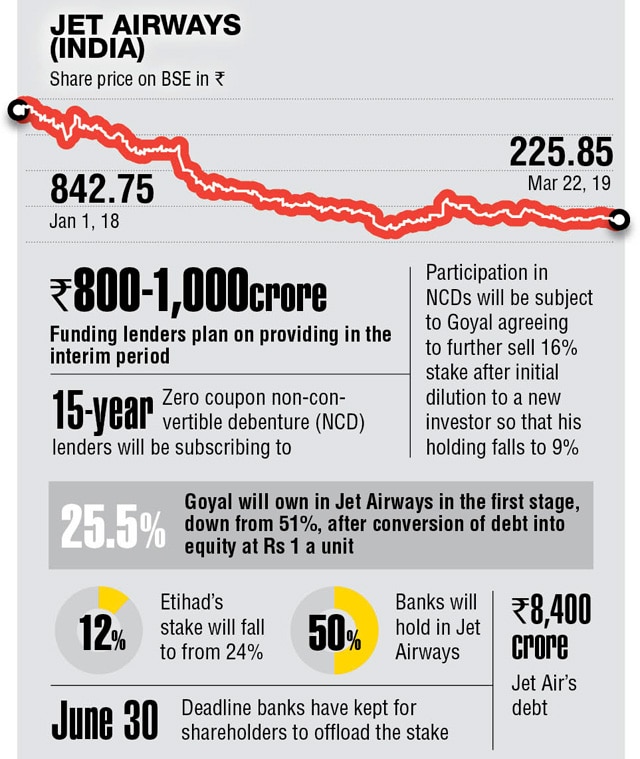 While there has been some buzz in the market that SpiceJet would buy a stake in Jet Airways, analysts said it does not have the balance-sheet strength to stitch a deal. Jet has a debt of Rs 8,400 crore and would require additional investments to do a turnaround.
The Tata Group, which is in the aviation space through two partnerships, looks like a contender. It holds a 51% stake in Vistara while Singapore Airlines is a joint venture partner. The group also has a 51% stake in AirAsia India.
"Among the domestic players, it is only Tatas who have the ability to take over a big airline like Jet Airways," said a source close to the development.
The lenders will also be able to tap in Qatar Airways in case Etihad is out. "We would definitely look at Jet Airways if a 24% stake was not held by Etihad. How can I take a stake in an airline which is owned by our adversary," Qatar Airways group CEO Akbar Al Baker had stated in January.
"Jet Airways is a very strong brand. There could be existing airline operators who would want to buy. Private equity investors or stressed asset funds could also be keen," the bank official said.
The downside is that if Jet fails to get in a new investor, it will go into the National Company Law Tribunal (NCLT). "If the airline is grounded, it loses a lot of value. So we are willing to provide interim funding to prevent it from being grounded, subject to both the shareholders agreeing to our conditions. This will give us time to get in a new investor. We are prepared to go up to Rs 1,000 crore. But if things don't work it, we will have to drag it down to the NCLT," the official said.
---
---
Categories: General News, India Bankruptcy